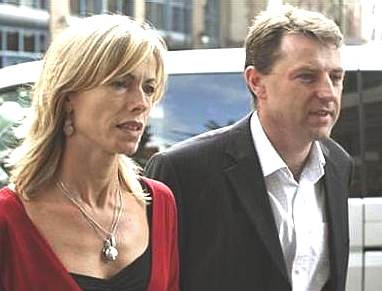 The two most arrogant, media-whoring parents ever to walk the earth have been trying to bother everyone
again
.
Gerry McCann has angrily dismissed Portuguese detectives' claims his daughter Madeleine is dead.
I'd angrily dismiss his expectations that I or anybody else still gives a fuck.
Speaking on Wednesday, the McCanns said: "We are not denying the existence of the dogs or anything else. It's evidence we're interested in. There is no evidence that Madeleine is dead."
Perhaps more importantly, there's no evidence she's alive either. You would have got a lot more respect from people if you'd accepted within the first couple of weeks that it's likely she was pushing up daisies within days of her disappearance. That's assuming, of course, that it wasn't you that killed her, and I'm quite open to that suggestion frankly, it'd explain why you're so fucking arrogant in your public appearances, your press statements, and particularly the way you loftily dismissed perfectly reasonable questions about your parenting habits as "unhelpful".
You tour the fucking globe, clearly having the money and/or the connections to get your child's face on every newspaper and every TV screen. I guess on reflection this is what every parent of a missing child would want, but none have. You should be treating the opportunity as a massive, massive privilage. But you don't - any questions on why in the name of fucking hell you left young children on their own in an apartment a good 5 minutes walk away whilst you got pissed with your mates in a fucking tapas bar - you react to in such a way as to anger people.
How do you think parents who have had children abducted from them when they've been far more responsible than you were feel, when they see your sneering faces over every newspaper and television screen? Max Clifford has a
lot
to answer for.
They are reported to be seeking 1.2m euros (£1.08m) in damages over the book and said any payment would go towards funding the private investigators hunting for Madeleine.
Like the other millions of pounds donated, from people like Richard fucking Branson, for fucks sake, have paid for "private investiagtors"? As
Old Holborn
says,
follow the money
. It's very likely Karen Matthews saw the case of your missing daughter as an inspiration to making a lot of money, only she was too pikey to pull it off. Why do you suppose you were the inspiration? You've made enough money whoring photographs of your missing daughter whether she's alive or dead, or whether you killed her or not, to live very, very comfortably for the rest of your lives.
Just saying.